Compact and cozy, but big on features…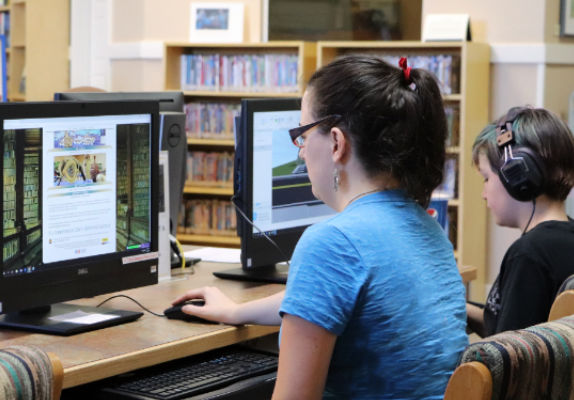 State-of-the-art computers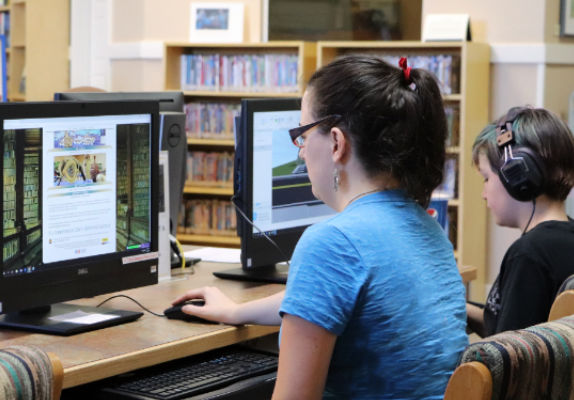 State-of-the-art computers
Features restored and introduced
Newspapers and magazines to peruse in-library

CML's antique, solid oak magazine rack was located and restored to the library. You'll now find it filled with current issues of The New York Times, The Arizona Republic, and The Verde Independent, as well as National Geographic's History magazine, The Atlantic, AARP, Smithsonian, Mother Jones, and WebMD, plus various issues of magazines donors thought might be of interest, such as Arizona Highways, Country Gardens, The New Yorker, and Sunset Magazine.

More powerful state-of-the-art computers

Equipped with Full HD monitors and MS Office productivity software.

Wannabe seed bank and crafts materials dispensary

The Clarkdale Historical Society returned this beautiful antique card catalog to CML, where it belongs. It now needs a volunteer horticulturist to stock it with seeds patrons can check out, plant, harvest, and share. Could you be the one? Talk to the Library Coordinator.

Notary Public

Patrons can now have documents notarized without charge.

New books and DVD/Blu-ray videos

A growing selection, with the most recent arrivals on the shelves in front of the check-out counter. Tell the Library Coordinator if there is something missing you would like to see.

Storytime, Summer Reading & Continuing Education Programs

Intended for students in grades 3–5, the 2018 Summer Reading pilot program featured geology, paleontology and archaeology reading assignments augmented with demonstrations and activities. Future programs will be designed to make continuing education fun for patrons of all ages.
More to come
Programs and events for school kids and adults are in the works, along with support for local book and video clubs.
Quote for the moment
"The problem with the Internet is that you never know if the information provided there is actually true."
—Abraham Lincoln
Quote for a while
"This website is evolving. Check back occasionally."
—webmaster
Clark Memorial Library is at 39 N. Ninth Street in the Clarkdale Town Center • (928) 634-5423
Open Tuesday–Thursday from 1:00 to 5:30 pm, Friday–Saturday from 10:00 am to 2:30 pm